A couple months back I reviewed the 2007 horror film Primeval, and I don't bring this up because they were released in the same year. That film was one that 11-year old me thought looked terrifying, but that wasn't because I thought just anything was scary. When I saw the trailer for P2 back in 2007, I thought that it looked like total shit. I avoided it like the plague and it wasn't until the past couple of years that I started to hear it mentioned again. In some horror groups on Facebook I saw it mentioned for good Christmas horror, people seemed to really dig it. After having the desire to give it a chance for so long, tonight was the night that I finally put it on. Did it live up to the hype? Let's break it down.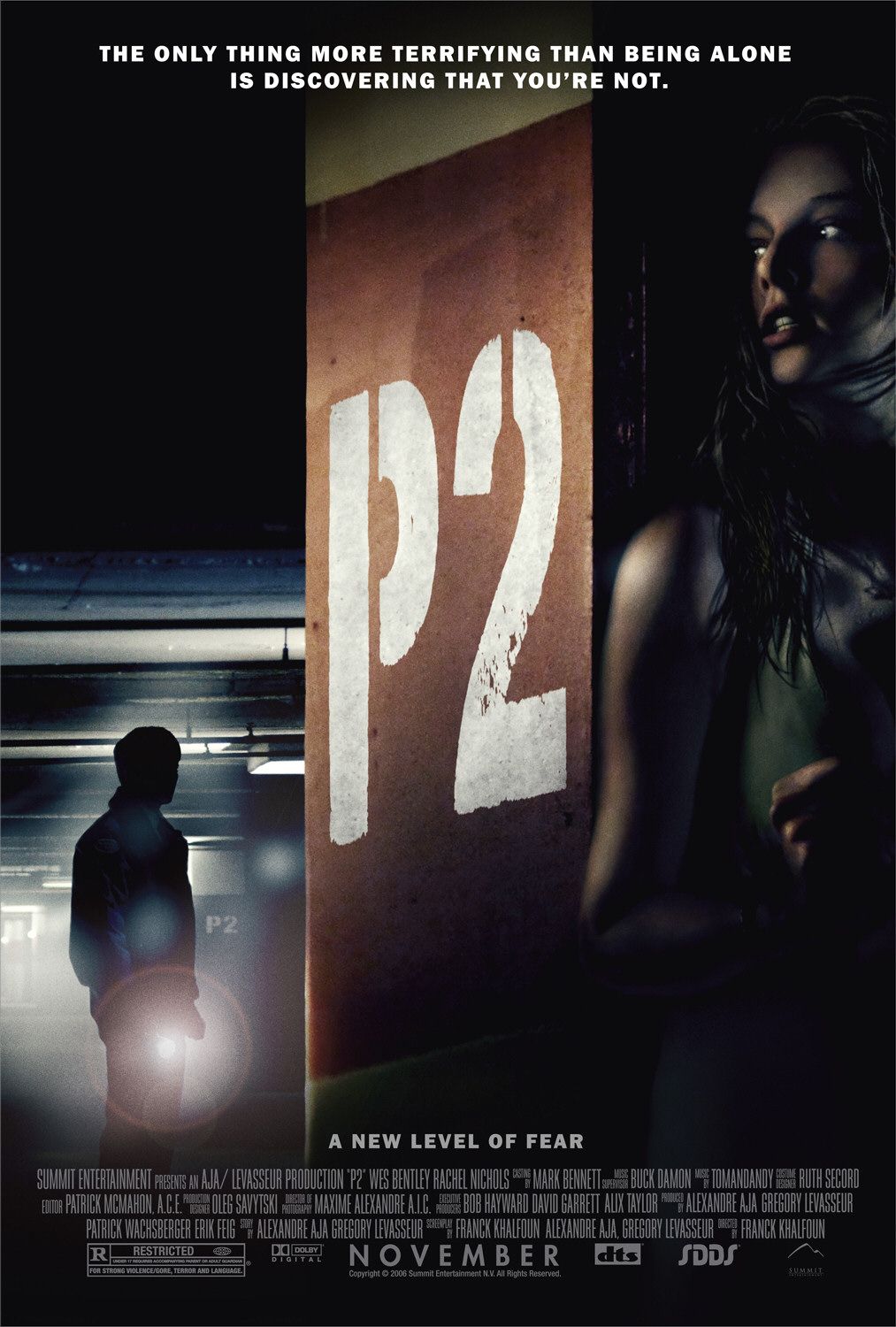 After working late on Christmas Eve, Angela (Rachel Nichols) just wants to make it to her family's Christmas party. Her plans go awry when she finds herself locked in her parking garage and kept captive by the parking garage security guard Thomas (Wes Bentley) who seems to be infatuated with her. Angela fights for her life as she tries to escape the garage and escape her obsessive kidnapper.
What took me by surprise right off the bat was the story. I was expecting just a simple cat-and-mouse chase around a parking garage, while a stoic, frightening Wes Bentley stays in his control room and orchestrates the terror. That's partially what I got, but far less straight forward. Bentley's character for instance was a much more interesting antagonist than I had expected, with Nichols being a much more likable protagonist. I'll be getting into more of them later, but those aspects really shocked me. The story just sounds so boring itself, I was totally shocked that the script presented a story where I didn't know what was going to happen next. Usually when you have a script written by more than two people, it means trouble. In this case, we have 3 writers who all seem to gel together fantastically. They take this straight forward story and make something so unpredictable, where I was on the edge of my seat waiting to see what was going to happen next.
Tension is a key tool with this film. As far as scares go, there's really only one minor jump scare, other than that it never really goes for terror. This is a film that knows that the unpredictability is it's best tool, utilizing that wonderfully. Because the story had me not knowing what was going to happen next, I found myself constantly nervous. With Bentley not being the villain I expected, I didn't know what his motivations were at first so that intrigued me and frightened me all at the same time. Director/writer Franck Khalfoun (as well as co-writers Alexandre Aja and Gregory Levasseur) use very creative methods of tension. For instance, we have sequences like the elevator bit and a moment with Rachel Nichols underneath a car ( I don't want to spoil them) that are so creative and inspired, making me tense and fascinating me all at the same time. It uses intelligence and creativity instead of just going for the "Boo!" jump scare factor.
Although the film mainly uses tension to frighten you, there are two big kills in the film. I won't spoil them, but they are not only great gore effects that give you that feel of old school slasher films without being too wink-wink-nod-nod-y, they are much needed tension relievers from the running around and screaming. They provide a much-needed levity. They are minor moments, but they have large impacts.
"Shocking" is the word to use with this film, one of the other aspects that shocked me were the characters. The writing on these two main characters was impressive, much more fleshed-out than your typical characters from films like this. Angela isn't given some huge backstory, but that's not what she needed as a character. They give you just enough of her personality and personal life to latch onto and relate to. There's a heart-wrenching moment where Bentley's character Thomas forces her to call her family and you genuinely feel for her. Not only that, but you root for her all the way. That's what wraps you up in the tension, you really want her to make it through this. I know it's a big statement to compare her to Ripley from Alien, but that's the type of character that she reminded me of here. Not only does our relatable and likable protagonist carry the film, it's also carried  by our antagonist Thomas. Like I said, I started this movie expecting a much more stoic, gloomy antagonist. What we have here is a villain with much more interesting layers, a truly troubled character that you feel for if he weren't such a fucking psychopath. I was so fascinated in seeing what he was about and where he was going next, the writers give you just enough of a look inside his head without explaining or giving us too much. He has a personality, very Norman Bates-ish, while still being unique and not contrived. He may feel like a Bates-type, but not a Bates ripoff.
Thankfully these wonderfully written characters are paired up with amazing actors. I've seen Rachel Nichols in a few films and I've never been impressed with her, but she delivers here more than I've ever seen her deliver. She gives that personality to Angela, where I believe her as a real person. When she's scared, she doesn't seem actor scared. I buy her pain and terror and when she fights I believe in it. This isn't Oscar-level stuff, but she perfectly embodies the character that's written on the page. The performance here that truly stands out is Wes Bentley. He's absolutely fantastic as Thomas. He gives lines with pitch-perfect delivery, giving personality to the character like very few actors could. Sure it's a well-written character, but it takes a great actor to translate that to screen. It feels like Bentley was born to play this psychopath. He's what gives Thomas layers, hidden in that performance and delivery. He's what makes Thomas not a character, but a person. He's what gives us that sense of "I almost feel bad for him, but he's also fucking crazy". This film may be forgotten, but this is prime Wes Bentley. If you're a fan of his (hell, even if you're not) you need to watch this movie.
The problems with this movie appear in very short bursts. There are moments throughout that are a bit sillier, none that I want to spoil but there's one scene in particular with cars at the end that was kind of dumb. It's a silly sequence that feels like it's there just because they needed a big climax. It honestly almost feels like that was added in after the fact. There are random physics and logic issues that pop up in films like this, like one sequence with cops. The cops scene itself is great, making me nervous throughout, but the way that bit ends was stupid to me. There's not one major issue with the film, just random stuff throughout. Trust me, these aren't exactly film-breaking moments. They're noticeable, but nothing to worry about. Like I always say, I can get past stuff like that if you entertain me enough, which this film does very well.
I've seen this film talked about briefly before, amongst horror fans on Facebook, but it kills me that this doesn't have more recognition. It's not a perfect movie, but you don't need to be perfect to be fucking awesome. This movie is exactly the inspired, creative, tense horror that I love from the genre. Not only does it give me what I need, it gives me more. It gave me not only a compelling story with thick tension, it gave me great performances by actors who portray intelligently written, likable characters. There are issues throughout, but nothing that takes down the quality of this gem. Many of you have probably either never heard of this or have completely forgotten about but you should check it out immediately. I have no qualifiers for this recommendation. Whoever you are, watch this movie. A tight, fun thrill ride.
Rating: 8/10