Years ago I took the bold step of claiming to be a vampire hunter in London.  At the time I thought I would be one of many professing to hold such accolades, but in truth I seem to have market exclusivity.  Of course, it was part of a wider strategic plan to cast my net and enlighten people about what's really going on beneath the streets of London. And so, reader, let me share with you a brief insight into how I became the mask-wearing London vampire hunter.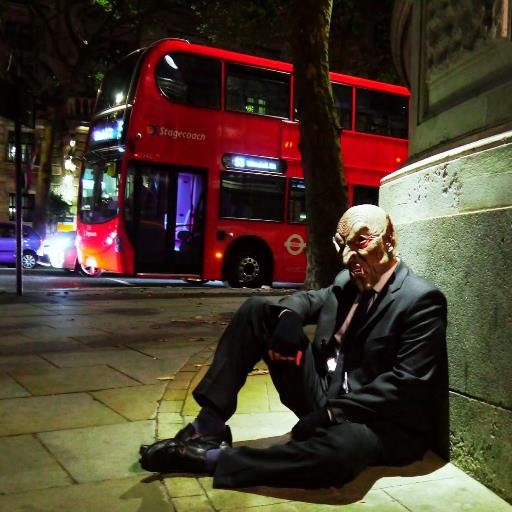 The most common thing I get asked by anyone of the Google generation about vampirism or the occult  is 'How do i BECOME a vampire??!', typically followed by loads of random emoticons I just don't understand, and then a follow up message along the lines of. 'I love Twighlight – go team Jacob!  Pls email me, I want to know more :)'.  Seriously, how am I supposed to react to questions like that?  I guess it's my own fault for entering this hyper-reality that has been exacerbated by the internet age, and it's much easier to claim to be someone else online that in our own legalised lives.  Still, I remain annoyed by how naive some people are when it comes to the topic.
Henceforth, how do you go about responding to that kind of stuff when people clearly don't take your work seriously? It's like stopping Lewis Hamilton in the street and proclaiming how much you enjoy drinking Red Bull, taking a selfie with him and then walking off, showing no interest in his driving talents or realising that he drives for Mercedez.  Put simply, I thought for a second and then fired back a cursory response (one of many).  If you're genuinely into vampires then please allow me to explain a bit more of what I'm all about.
Unlearn.  It's all about redefining what we know.  As a society we have to unlearn what we have been taught because when an idea is repeated and repeated again, we become indoctrinated, the myelin thickens around the nerves in our brains making it harder to break the connections when someone says the word 'Vampire'.
So, what does a vampire hunter do all day in London? I'll get to that in a bit.  I can't explain that until I have outlined what I believe a vampire to be.  By definition, and under all the various spellings (vampyre, wampyr, vampyr, bloodsucker, etc.) taken from the web:
(in European folklore) a corpse supposed to leave its grave at night to drink the blood of the living by biting their necks with long pointed canine teeth.  
or, on dictionary.com, it says:
a

person

who

preys

ruthlessly

upon

others;

extortionist.

a

woman

who

unscrupulously

exploits,

ruins,

or

degrades

the

men

she 

seduces.
You'll notice the word folklore is clearly used, the rest of the definition is just a repeated idea that is reinforced across popular culture (books, films, comics).   Personally, I am more drawn to the second definition which I think is commonly overlooked.  My initial venture into this field (vampires) was not a deliberate career choice, so I speak as a deliberate cynic not a fan.  It was whilst conducting my own investigation that I stumbled across a very dark and dangerous subculture that exists in London. One that I'm still struggling to understand. There is a degree of science, history and religion which I will briefly summarise in laymans's terms which has allowed me to get to the heart of the matter regarding our cold-blooded friends, much of which is explored in some detail on my website www.thelondonvampire.co.uk which was a knee jerk reaction to my own personal experience several years ago (I must revisit this at some point).
Historically, the term vampire was used to describe the consequence of what became of your body and soul if you broke the rules of religion or diluted your cultures gene pool by mating with the infidel.  For example, vampires were always seen as a bad omen or a punishment from god (or the gods depending on the culture).  Specific examples include the Albanian Sampiro, a being with two hearts, paying the price for not keeping the race pure. Fast forward to present day and the Albanians now have a terrible reputation for human rights (think the film Taken) and human trafficking, preying ruthlessly on the weak.  See what happens when ideas are repeated?  Women are often scorned by many cultures as well, as noted in the third definition above, for being manipulative and bringing down good, honest men.  In religion, the vampire can be traced down to the snake, the fanged serpent leading people astray and following a darker path.  The people I chase are of no fixed race or religion; yes they are able to leap across the channel or slip under a tunnel into the UK, but they are not immortal – they are opportunistic parasites.
Science tells us more about our world each day.  I only recently learnt that a whopping four more elements of the periodic table have been officially recognised.  Only four?  In truth, this highlights how science is only just scratching the surface of what we understand.  There is so much that we simply cannot comprehend.  You may have adopted one part of the evolutionary line of thought, supporting absurd claims that we can trans-mutate or jump from species to species. I firmly believe that we were all designed for a purpose, not the result of some cosmic accident.  For evolutionists, however, I believe this is partly true, that within our own species there was a time where man feasted on man.  Thankfully, that period was short-lived but sadly not eradicated.  Some would argue that in a godless era we are behaving more like animals which could risk further unwelcome developments in the way people behave and interact with each other, henceforth generate a new type of vampire for the 21st century.  This supports my idea, and that widely held by the group I work with (yes, there are others), that parasites are responsible for much of the behaviour we see that can be described as vampiric.  The biggest culprit is Toxoplasma Gondii which can affect the brain.  And since the meat industry has been deregulated (softened in recent years) there may be a whole host of other nasties working their way into the food chain and affecting our behaviour.  Why is this relevant? Because I believe some of these parasites can kick start something in the brain which has been dormant or suppressed by evolution within the species, which can account for increased mental health issues.  It's relevant to me because the people I hunt/deal with are often mentally maimed by such parasites which explains their lack of empathy, thirst for blood and misery, and penchant for violent tendencies.
Morally, we are inured against the suffering we see on a daily basis through the media.  The current (and ongoing) migrant crisis is probably the most concrete proof you will see that modern day vampirism still exists.  But our mental defense teaches us to think that their suffering doesn't go beyond a perilous boat trip or a risky lorry ride . The people I hunt deal in the misery of others and are in many respects soulless in the pursuit of worldly sums, creating a profitable black market that trades in people for slavery and blood.
I cannot simply tell you but I must show you. One reason I am willing to contribute to SQ Magazine is to tell you a little bit more about my role as a "vampire hunter' in modern day London.   You can expect vlogs, videos, case study files and perhaps a few excerpts from my authorised (if not sensationalised) biography, October's Son, and my more brutal, cut-throat follow up called Nuptial Flight.  I think you will find it challenges many of the ideas we are hanging on to about vampires, and those pre-conceptions need to change.
I am happy to answer people's questions as long as it's not 'where can I find vampires, I want to be one,' types of format (see above).  More about that in my next post.
Hope not to catch you later, for more confessions of the London Vampire Hunter.
Regards,
JM
*You can read John Michaelson's biography, October's Son, available in print and kindle format from Burton Mayers Books (Oct 2014).